Connecticut (CT) – "The Constitution State "
---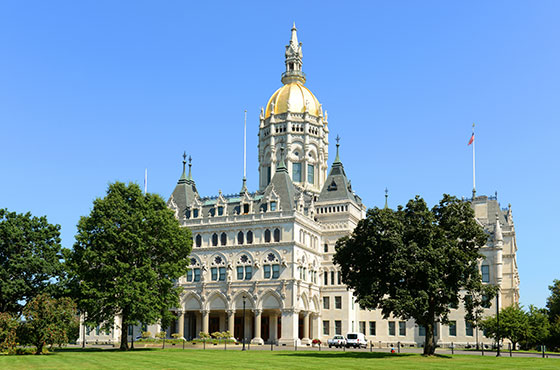 Time Zone:
Eastern Standard Time (EST)
Weather:
Summer
Avg High 28C/83F
Avg Low 20C/68F
Winter
Avg High 6C/42F
Avg Low -5C/23F
Famous For:
Both the Connecticut and New Haven Colonies established documents of Fundamental Orders, considered the first constitutions in North America. In 1662, the three colonies were merged under a royal charter, making Connecticut a crown colony. The agricultural produce of the state includes nursery stock, eggs, clams, lobster (shellfish) and dairy products. Its industrial output includes transportation equipment, especially helicopters and aircraft parts. Connecticut is the home of Yale University, established in 1701 it is one of the most academically renowned universities in the United States.
Major Cities:
Bridgeport, Hartford
National Parks:
Stratton Brook State Park
Kent Falls State Park
Must do while there:
Ride the Steam Train through the countryside, bursting with lush scenery and historic sites, such as Gillette Castle and Goodspeed Opera House. The Audubon Center in Greenwich offers indoor and outdoor fun by people who are experts on nature and wildlife. The 295-acre sanctuary has miles of trails near a hardwood forest, fields, a lake, streams and ponds, stone walls. The Sheffield Island Lighthouse in Norwalk may be one of the best places in New England to explore a lighthouse. The Wadsworth Atheneum Museum of Art, the oldest public art museum in the United States, was founded in 1842 by Daniel Wadsworth, one of the first important American patrons of the arts. Its collections of nearly 50,000 works of art span 5,000 years and feature the Morgan collection of Greek and Roman antiquities and European decorative arts. The Mark Twain House & Museum in Hartford recognizes Samuel Clemens's (Mark Twain's) role as one of the nation's foremost literary icons. The Mark Twain House & Museum's collection contains 16,000 artifacts. Olde Mistick Village in Mystic is a really fun place to shop, especially as the Christmas season approaches. It is an open-air shopping center set up to resemble a Colonial village, complete with duck ponds, a waterwheel.
---
State Website: