Oregon (OR) – "Beaver State "
---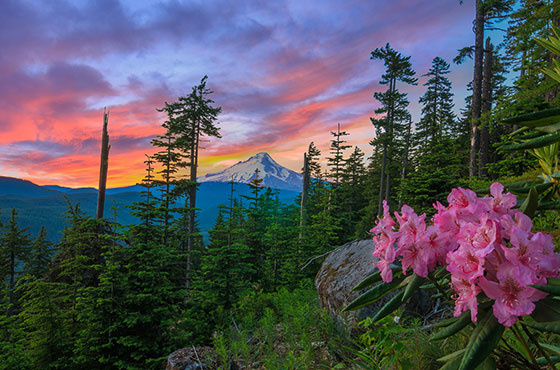 Time Zone:
Pacific Standard Time (PST)
Weather:
Summer
Avg High 23C/83F
Avg Low 13C/56F
Winter
Avg High 9C/48F
Avg Low 2C/36F
Famous For:
Oregon contains a diverse landscape including the windswept Pacific coastline, the volcanoes of the rugged and glaciated Cascade Mountain Range, many waterfalls (including Multnomah Falls),dense evergreen forests, etc. Oregon is also one of four major world hazelnut growing regions, and produces 95% of the domestic hazelnuts in the United States.
Major Cities:
Portland, Eugene
National Parks:
Crater Lake National Park
Lewis and Clark National and State Historical Parks
Nez Perce National Historical Park
Must do while there:
International Rose Test Garden is a must see while in Portland, OR. Founded nearly 100 years ago, the garden is an official testing site for All-American Rose Selections. The garden features a Miniature Rose Garden, a Shakespeare Garden and a Rosarian Garden. Portland Art Museum is the oldest institution on the West Coast, and it houses a vast collection of everything from ancient Asian art to Van Gogh. Douglas County Museum is home to Oregon's largest natural history collection on display.
---
State Website: