Arizona (AZ) – "Grand Canyon State "
---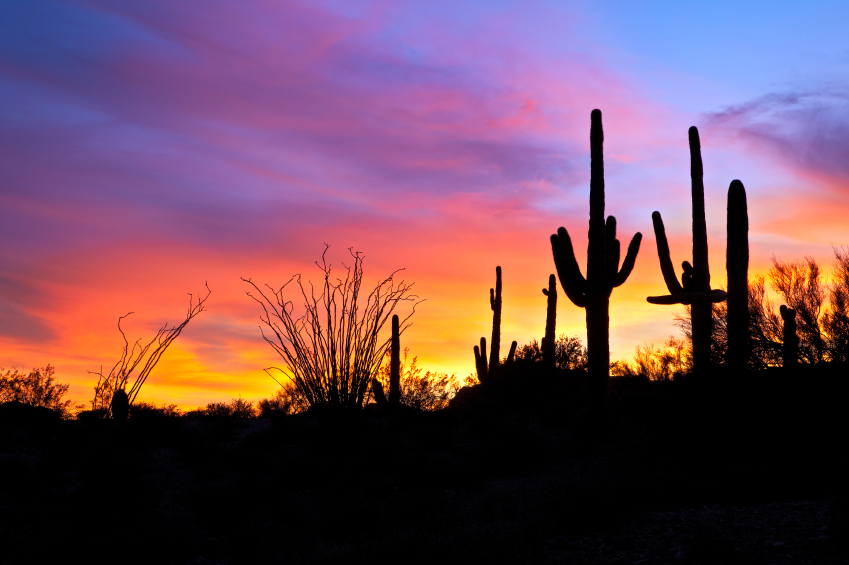 Time Zone:
Mountain Standard Time (MST)
Weather:
Summer
Avg High 39C/102F
Avg Low 24C/76F
Winter
Avg High 6C/70F
Avg Low 4C/39F
Famous For:
Known for its Grand Canyon and brilliant desert sunsets, Arizona boasts of so much more such as lush forests, shimmering streams, snow-capped peaks, meadows of wildflowers, mountain lakes and swift rivers. It's a land of tranquility.
Major Cities:
Phoenix, Tucson
National Parks:
Must do while there:
Arizona offers opportunities for camping at a wide range of altitudes, in maintained campgrounds or roughing it in the wild. Also, the most popular of Arizona attractions including ancient Indian Ruins, Arizona State Parks, National Monument Parks, man-made points of interest and even amazing Arizona Lakes. Top Arizona natural attractions include: Grand Canyon National Park, Montezuma Castle, Meteor Crater, known by scientists as Barringer Crater, etc.  There are also many places of interest in Phoenix such as Phoenix Art Museum, Desert Botanical Garden and Phoenix Zoo.
---
State Website: