North Carolina (NC) – "Old North State "
---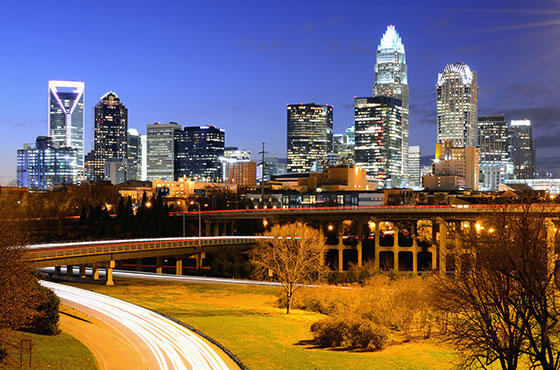 Time Zone:
Eastern Standard Time (EST)
Weather:
Summer
Avg High 32C/90F
Avg Low 20C/68F
Winter
Avg High 14C/57F
Avg Low -1C/30F
Famous For:
North Carolina is known for its best East Coast's beaches, American history, scenic rides through farmland and mountains, and award-winning golf courses. Smoky Mountains is the most visited of the National Parks and one of the most diverse ecosystems on Earth. One of North Carolina's major claims to fame "First in Flight" was due largely to the wind conditions on the Outer Banks, and the dedicated observers who recorded the wind speeds. In this case, the story rests on the state as a windy, not a calm, location.
Major Cities:
Charlotte, Raleigh
National Parks:
Fort Raleigh National Historic Site
Great Smoky Mountains National Park
Must do while there:
Visit Biltmore in the mountains of Asheville, NC. Biltmore is a National Historic Landmark with America's largest home, gardens and world-class luxury inn. The North Carolina Arboretum is an arboretum and botanical garden located within the Bent Creek Experimental Forest of the Pisgah National Forest. The arboretum includes many hiking and bicycling trails, a bonsai collection, a holly garden, a stream garden, etc. Step inside an amazing world of science and spend a day at Discovery Place, one of Charlotte's most popular attractions. Featuring hands-on fun for everyone, guests can walk the rainforest, enjoy jaw-dropping experiments or wonder at the underwater world in the new aquarium. One of the leading art museums in the American South is the North Carolina Museum of Art, featuring paintings and sculpture representing 5,000 years of artistic work from antiquity to the present. The museum features more than 40 galleries as well as more than a dozen works of art in its 164-acre Museum Park.
---
State Website: