Washington (WA) – "The Evergreen State "
---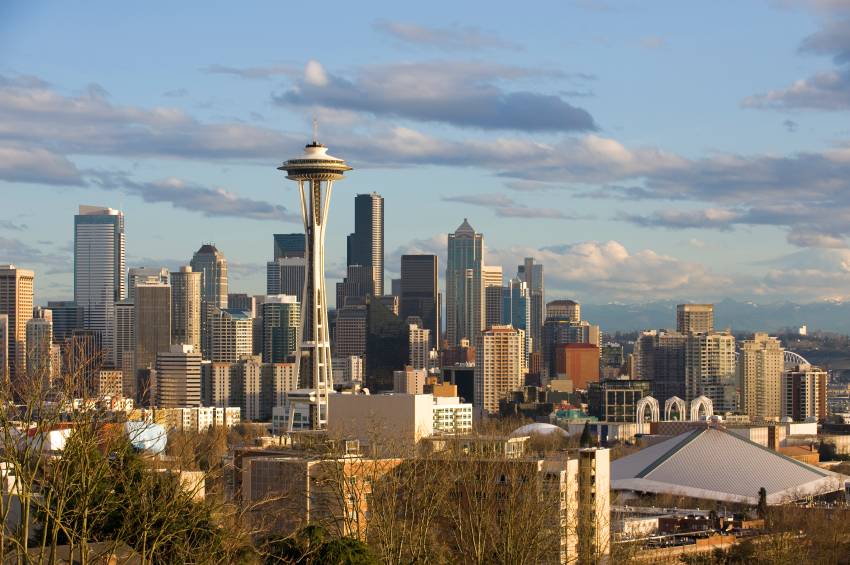 Time Zone:
Pacific Standard Time (PST)
Weather:
Summer
Avg High 24C /75F
Avg Low 13C/56F
Winter
Avg High 8C/47F
Avg Low 2C/36F
Famous For:
Washington's position on the Pacific Ocean and the harbors of Puget Sound give the state a leading role in maritime trade with Alaska, Canada, and the Pacific Rim. Washington is a land of contrasts. The deep forests of the Olympic Peninsula, such as the Hoh Rain Forest, are among the only temperate rainforests in the continental United States. Mount Rainier, the highest mountain in the state is covered with more glacial ice than any other peak in the lower 48 states. Washington is a leading agricultural state. Because of the favorable climate of dry, warm summers and cold winters of central Washington, the state has led the U.S. in apple production since the 1920s.
Major Cities:
Seattle, Spokane
National Parks:
Klondike Gold Rush National Historical Park
Olympic National Park
Mount Rainier National Park
Must do while there:
With views of the mountains to the east and west, and Mount Rainier to the south, Seattle has all the best Washington has to offer. Explore the waterfront and enjoy fresh seafood before taking a ferry ride across the Puget Sound. Also be sure to stop by the historic Pike Place Market and the Space Needle. Explore miles of trails in and around Mount Olympus, the highest peak in the park, or sit in one of the natural hot springs after a day experiencing some of the best Washington hiking in Olympic National Park.
---
State Website: