Pennsylvania (PA) – "Keystone State "
---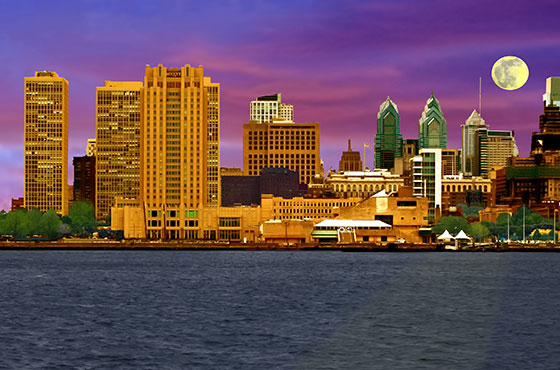 Time Zone:
Eastern Standard Time (EST)
Weather:
Summer
Avg High 31C/87F
Avg Low 19C/67F
Winter
Avg High 8C/46F
Avg Low -4C/24F
Famous For:
Pennsylvania is home to the nation's first zoo, the Philadelphia Zoo. The Commonwealth boasts some of the finest museums in the country, including the Carnegie Museums in Pittsburgh, the Philadelphia Museum of Art, and several others. One unique museum is the Houdini Museum in Scranton, the only building in the world devoted to the legendary magician. Pennsylvania offers a number of notable amusement parks, including Camel Beach, Conneaut Lake Park, Dorney Park & Wildwater Kingdom, etc. Pennsylvania also is home to the largest indoor waterpark resort on the East Coast, Splash Lagoon in Erie. The U.S. chocolate industry is centered in Hershey, Pennsylvania with Mars, Godiva, and Wilbur Chocolate Company. Among the regional foods associated with Philadelphia are cheesesteaks, hoagie and soft pretzels.
Major Cities:
Philadelphia, Pittsburgh
National Parks:
Independence National Historical Park
Valley Forge National Historical Park
Must do while there:
Visit Independence National Historic Park that has been the most top attraction as the "America's most historic square mile" is home to Independence Hall, Liberty Bell Center, Declaration House and Christ Church Burial Ground. Philadelphia Museum of Art offers a stellar collection from artists such as Van Gogh, Monet, Picasso, and Rodin. Visit Hersheypark, a family theme park situated in Hershey, Derry Township, Pennsylvania. As of 2011, the park's area covers over 110 acres, containing over 60 rides and attractions. It also contains a waterpark called The Boardwalk at Hersheypark and a zoo called ZooAmerica.
---
State Website: