Vermont (VT) – "The Green Mountain State "
---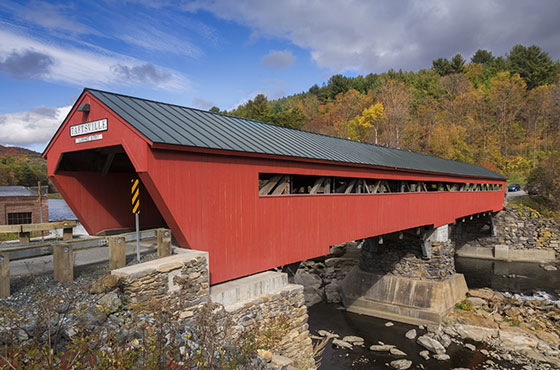 Time Zone:
Eastern Standard Time (EST)
Weather:
Summer
Avg High 27C/81F
Avg Low 13C/55F
Winter
Avg High 1C/33F
Avg Low -12C/10F
Famous For:
Vermont is the leading producer of maple syrup in the United States. Tourism is an important industry to the state. Some of the largest ski areas in New England are located in Vermont. Skiers and snowboarders visit Burke Mountain Ski Area, Bolton Valley, Stowe, etc.
Major Cities:
Burlington, Essex
National Parks:
Appalachian National Scenic Trail
Marsh-Billings-Rockefeller National Historical Park
Must do while there:
Skiing is the heart of Vermont's tourism industry, and probably the most popular of all things to do in Vermont. Vermont is home to many top-class ski resorts, including Stowe, Killington, Okemo and Stratton. The favorite of all Vermont attractions is the Ben and Jerry's ice cream factory in Waterbury. Shelburne Farms and the nearby Shelburne Museum are must-do tourist attractions in Vermont. Summer is the best time to visit the Shelburne Museum, when it is warm enough to stroll through its extensive gardens and see some of the historic Vermont buildings. Other popular events and festivals in Vermont include the Vermont State Fair in Rutland, the Burlington Jazz Festival held annually in early June, and the Stowe Winter Carnival held in mid-January.
---
State Website: