Maryland (MD) – "Old Line State "
---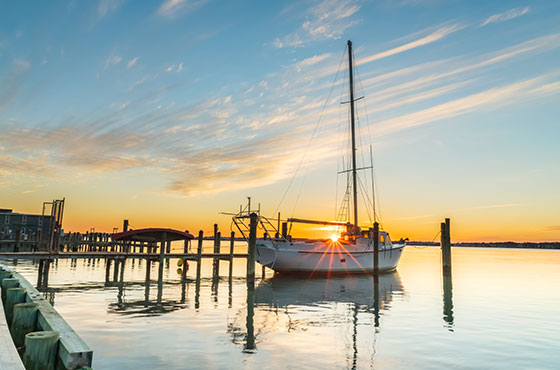 Time Zone:
Eastern Standard Time (EST)
Weather:
Summer
Avg High 31C/87F
Avg Low 19C/67F
Winter
Avg High 8C/47F
Avg Low -4C/25F
Famous For:
Maryland has a large food-production sector. A large component of this is commercial fishing, centered in Chesapeake Bay, but also including activity off the short Atlantic seacoast. The largest catches by species are the blue crab, oysters and striped bass. The Star-Spangled Banner National Historic Trail is a 560-mile mile land and water route that tells the story of the War of 1812 in the Chesapeake Bay region. It connects historic sites in Maryland, Virginia, and the District of Columbia and commemorates the events leading up to the Battle for Baltimore, the aftermath of which inspired Francis Scott Key to write the National Anthem of the United States.
Major Cities:
Baltimore, Frederick
National Parks:
Patapsco Valley State Park
Maryland State Park
Must do while there:
Adkins Arboretum is a beautiful 400-acre native garden and preserve that includes four miles of meadow and woodland paths. Amenities include gardens, gift & book shop, native plant sales, art exhibits. Visit Adventure Park, USA which is Maryland's largest family entertainment center featuring laser tag, go-karts, mini-golf, rollercoaster, a large arcade and more. Experience the area's rich maritime heritage through exhibitions, events and concerts at Annapolis Maritime Museum.
---
State Website: