Alaska (AK) – "The Last Frontier"
---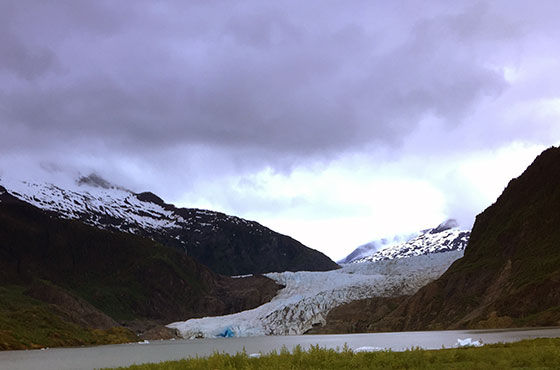 Time Zone:
Alaska Standard Time (AKST)
Weather:
Summer
Avg High 18C/65F
Avg Low 11C/52F
Winter
Avg High -6C/22F
Avg Low -14C/7F
Famous For:
Interior Alaska is known for its many natural geothermal hot springs. Alaska has 29 volcanoes. There aremore than 100,000 glaciers and 3 million lakes in Alaska. Alaska's main export product is seafood, primarily salmon, cod,Pollock and crab.
Major Cities:
Anchorage, Juneau
National Parks:
Must do while there:
The final frontier is a dream destination for many travelers, an untamed wonderland with an abundance of things to do:  watch wildlife in Denali National Park, ride the rails of the Historic Alaska Railroad, cruise Glacier Bay National Park, catch sight of the Northern Lights, follow the Iditarod National Historic Trail, go fish as Alaska is a dream destination for fisherman, where the rivers teem with salmon, halibut, rainbow trout and other sport fish. Alaska's hills and streams still glimmer with gold - and it just takes a little elbow grease to find it. Those looking to hit the gold nugget jackpot can try their luck for free in several places throughout the state.
---
State Website: